Nothing in the world sounds better than curling up with a good book, on a freshly made bed, after a long day of seeing the sights. These hotels though offer a view which will take the breath away of all book lovers, because these hotels have libraries to die for. Books from floor to ceiling, books surrounding the bed, and even decor orientating around books, this will be heaven for every bibliophile.
The best thing about library hotels opening up is they are quickly expanding out to every corner of the world. With libraries at home guaranteeing peace, comfort, and silence, it makes sense that hotels began offering these special, and unique places for you to rest your head.
Below are several hotels with libraries, so you can try to balance the curiosity to read as much as you can and explore.
Top 10 Hotels With A Library Around The World
This creative hotel has taken inspiration from all walks of life, with the hotel boasting various rooms to suit your interest. However, the one we are here for ourselves is the breathtaking Secret Bookcase rooms, with several on offer to take your fancy.
With floor to ceiling bookcases, and secret mirrors or paintings doubling as a one-way window you can see out from, this is the perfect place to escape to if you're a book lover. Behind those bookcases, however, are even more secret rooms for you to discover, meaning your adventure around Amsterdam doesn't have to end when you step into your room.
While this hotel may not have a library inside of your room like the last one, it does boast a vast library which you may borrow a book from during your stay. You can settle in at the library itself, or take your read back to your room.
With twelve different rooms available to stay in, all individually decorated bringing warmth and comfort from floor to ceiling, this hotel is the perfect stop after a busy day exploring. If you're celebrating, this hotel also allows you to book out the library for a special occasion, family get-together and even a meeting.
This residential library mixed with a hotel is the perfect place for those wanting to live in a library for the weekend. This Grade I-listed 19th-century building in North Wales offers courses and events for writers as well as thinkers. With more than 250,000 works on the shelves, as well as a grand reading room, you know you'll be able to find like-minded people staying in this hotel.
Not only do you have books at your fingertips, and beautifully decorated rooms, but Gladstone's Library also has grounds to explore if the weather is nice, and maybe you can find a tree to read underneath.
With the beachfront at your doorstep, cool but minimalist design throughout, The Library is a gorgeous hotel to stay at without mentioning the expansive library of 1,400 plus books.
Inside, there's the charming 'Bookmark', which is perfect for a book worm and an outdoor 'red' pool for you to flick the pages of one of the books you can borrow from inside. So, if you're after reading with the ocean at your feet and waves crashing in your ears, this gorgeously-chic hotel is the one for you.
This contemporary, rich-in-luxury hotel is located in the heart of Mayfair. But, it's 'The Library Suite' we are here for today. Beautifully designed by architect Michael Blair, this suite has a breathtaking library room, where you can lose hours reading as well as two king-size beds to sprawl over.

Not only that, but this suite also has a balcony where you can overlook London, waiting for the sun to set as London turns from day to night, allowing you to capture a moment you usually only read about.
A historical hotel converted from a 19th-century Brewhouse, this hotel has 146-rooms at this riverfront hotel. In downtown San Antonio, the Hotel Emma has a beautifully curated library of more than 3,400 books, decorated in rich woods and deep leather.
The whole place gives the feel of stepping into another world, which is every book lovers dream, but more impressively, allows you to savour the taste of part of the Brewhouse, with some original fixings inside.
If you're wishing to escape from the bustling of Ho Chi Minh, this hotel is the perfect refuge. For the bibliophile within, the library is not only impressively designed but also filled with an extensive book collection. With it being decorated from floor to ceiling in blacks and whites, punctuated by dark leathers and various shades of book spines. This hotel will have you wishing never to leave this luxurious room.
However, if you do decide to explore, the hotel is in the perfect location, close by to many famous attractions.
I can't be the only one wishing I had a bookshelf bed when I was little, and thankfully this hotel lets our childhood dreams come true. With guests staying in their own 'bookshelf beds' surrounded by more books than you have hours. The nooks are warm and spacious, allowing you the chance to spread out as you flip through the pages.
Not only that, but this hotel also offers a wide range of English and Japanese reading books, as well as an extensive Manga collection.
In the heart of Berlin, this creative-sparking hotel has you book lovers right at heart. With a library offering books from all over the world, and a lounge where you can be around art exhibitions reading one of the many books left around the hotel.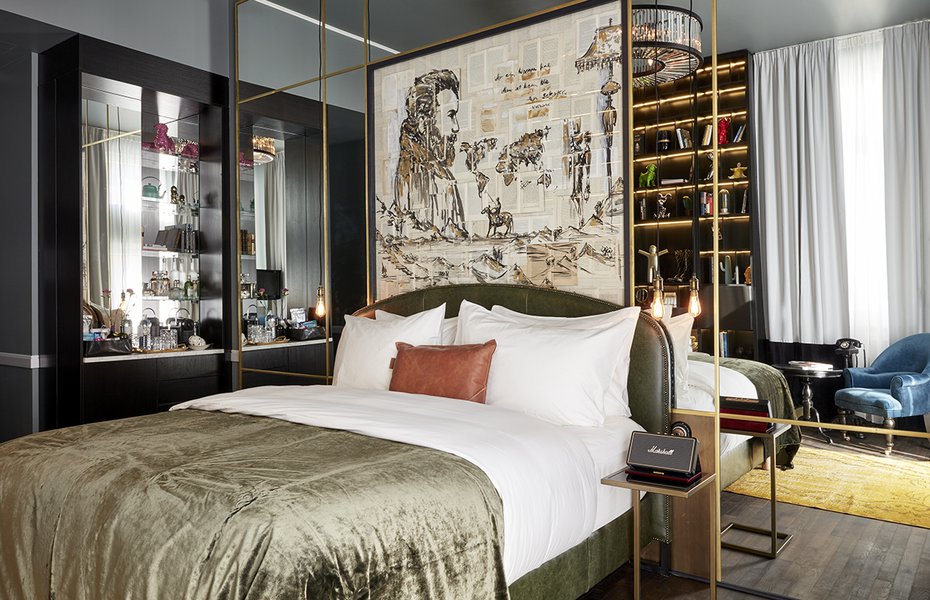 But that isn't all. Staying in one of Sir Savigny's rooms means pages above your bed and books at your fingertips on display. There isn't a place in this hotel free from the sight of a loved, and worn, spine. Which really, sounds like the dream for you bibliophiles.
Last, but by no means least, this exclusive hidden retreat hotel has relaxation at the forefront of their vision. Impressively, this secluded hotel offers you the chance to find the spiral wooden staircase, which leads to the equally impressive library tower where a book is surely going to have your name on.
With window seats in rooms and around the hotel, providing panoramic views of the surrounding area, there are plenty of reasons to cuddle up with a good book at this hotel. So really, what are you waiting for?
---
All of these impressive hotels have taken a hobby and turned it into something you wish you'd discovered earlier. Each one of these hotels are offering a unique secluded space to read; truly providing the chance to connect with the stress-free life you crave while on vacation. The wide range of books, in many languages, means its inclusive of all, providing every person who steps through their doors to experience the delight of falling into a new world.
So, regardless of whether you're a bibliophile yourself or dating one, there's something for everyone in these hotels. Even if you're not the most avid reader, the peace and quiet are enough to allow you to decompress after a long day sightseeing.
Team hoo.