Are you someone who loves the idea of camping? Finding yourself awwing when you see it in the movies, wishing the only thing separating you from the stars is the canvas. But then, reality hits home, and you wouldn't know how to pitch a tent to save your life. While you love the idea of it all, but it seems a lot of hard work for some night skies and backache. Well, look no further.
Luxury camping hotels are a thing, and they are going to change your life—especially the ones below.
While you get all the romance of the stars, campfires and being separated from the sky by a canvas—all like a real campsite. Although, with this kind of camping you swap out your cot beds or blow-up beds for luxurious plush, king-sized beds.
That isn't all. While you do get to sit around a bonfire, when you return to your tent it's to furniture, running water and hot showers. Some tent hotels even provide air-con, heating and wi-fi. Never mind the views to take your breath away.
However, with all the frills and luxury changing the vision of camping, remember you can't escape the entire experience. Some places may have poor mobile phone reception and you can't always keep the critters out, but it's all a part of the experience.
So, if camping on a campsite wasn't for you, maybe one of these ten camping hotels will get you in the outdoorsy spirit.
Surrounded by natural beige, and minimalistic design, this Swedish luxury camping experience comes with views which'll stay with you for a lifetime. This tent hotel offers a double tent, lodger tent for families and a suite which has the beach close-by.
Not only do you have luxury on the inside, but you also have the chance to be wined and dined with a restaurant close by, and with each camp coming with a private beach, super comfortable beds and a sauna.
In summer, there's even a beach bar open from morning until late evening. With this luxurious tent hotel so close to the beach, Surflogiet also offers lessons in surfing and paddle-boarding.
Lost around wildlife and wilderness, Aman-I-Khas is located in one of India's top tiger reserves. With heating and air-conditioning, and a king-size bed this luxury camping will leave you ditching camp beds forever. Your tent comes with complimentary breakfast, room service and access to a spa.
But while the amenities and outside pool will have you wishing never to go home, it's the wildlife that'll leave you with memories to last a lifetime. With the chance for nature walks and four-wheel drive vehicles, you may even get a chance to see a tiger.
This luxury tent hotel only has ten tents available, so it's recommended to book earlier rather than later.
With its contemporary design and classical decor, taking a break in one of the many tents this resort has to offer will have you never wanting to leave. While sleeping under canvas, you could easily find yourself forgetting you're not in a hotel with the flat-screen televisions, kitchen and plush double beds.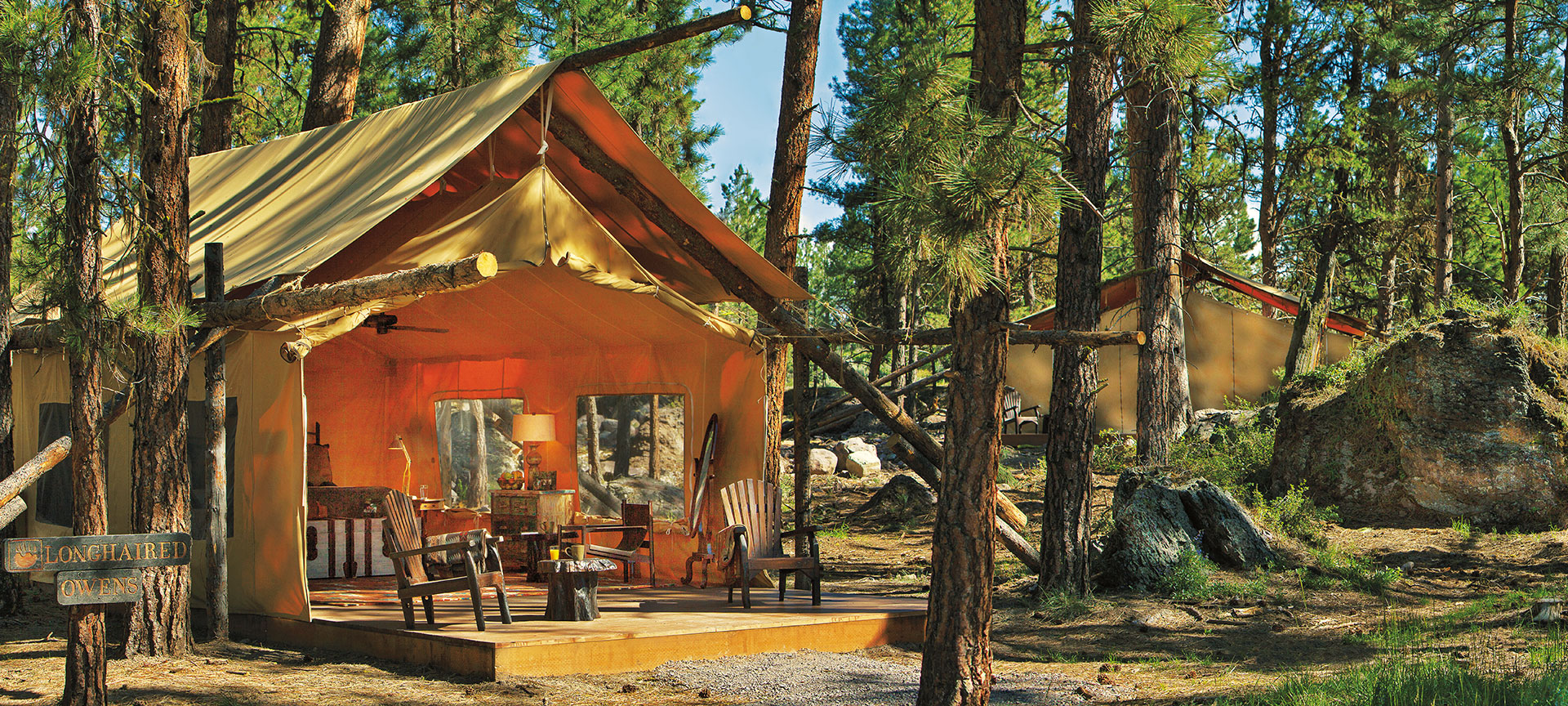 If you're after some reconnecting with nature, The Resort at Paws-Up has plenty, with horseback riding and trees all around, you'll feel in the middle of nowhere from the moment you check-in.
This luxury tent hotel has various sized tents available, ranging from one-bedroom up to four.
These fully sustainable eco-tents have zero impact on the environment around them, bringing glamour and naturalism for a once in a lifetime experience. With fireplaces, ensuites, and views from the comfort of your bed, you'll be hard-pressed not to fall in love with the Earth. In the main camp, there's a restaurant and bar available, with the tent hotel offering horseback riding and yoga.
Patagonia Eco Domes also have a common tent available for those wishing to socialise with others, allowing the chance to swap stories and discuss treks, all the while seeing the rolling hills.
Located in the 'sand sea' amongst dunes and desert, Le Sand Camps' tents are one for silence and seeing the stars twinkle. With only four tents available to stay in, they all come with luxury bathrooms, king-size beds and wi-fi.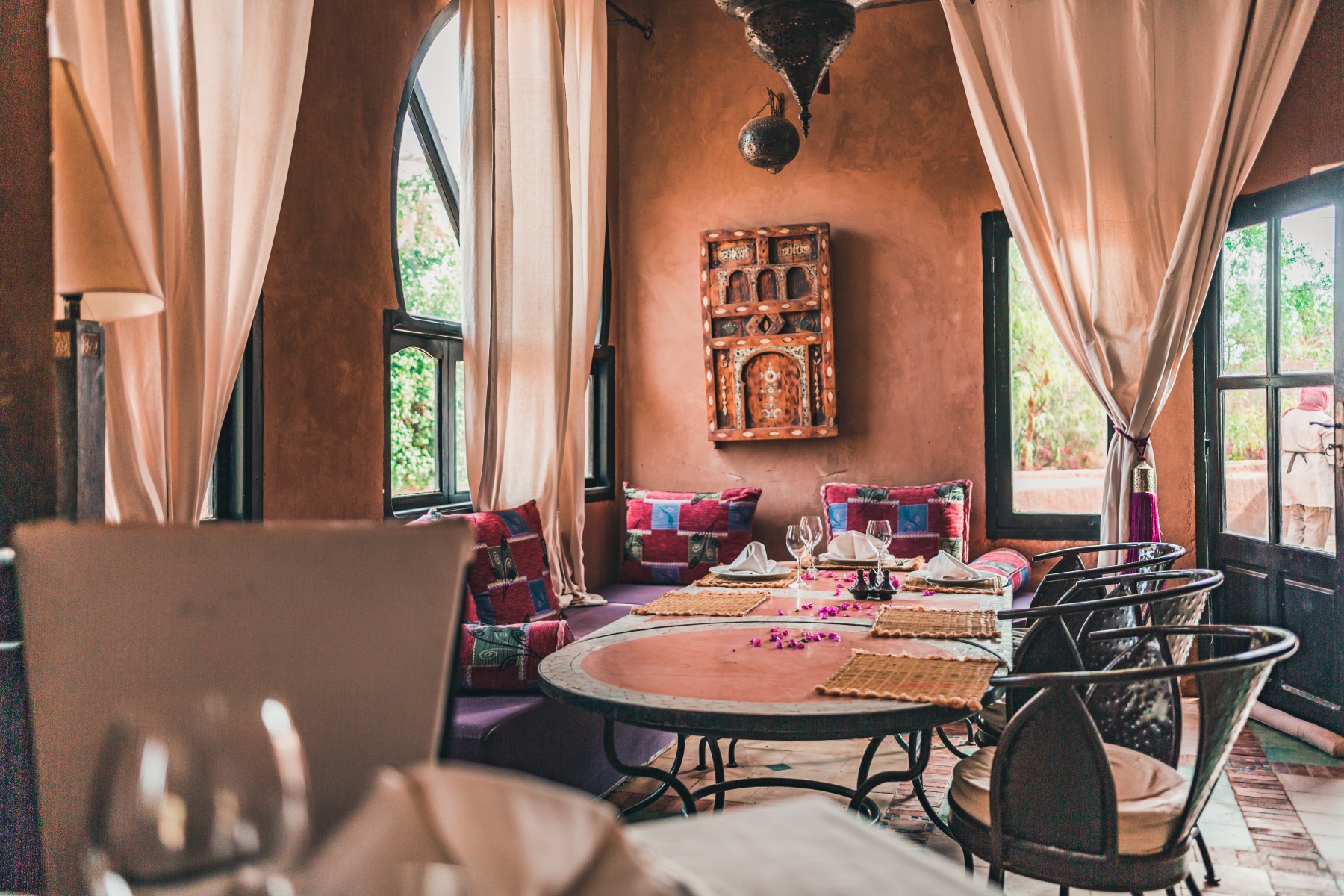 With a restaurant on-site, you can take a loved one for a meal under the stars, listening to the silent night and the view of the rolling dunes around you. The hotel also offers hikes, horseback riding and yoga.
Uniquely, this hotel also offers a nighttime show, with Berber songs and stories all the while around a bonfire, surrounded by the stars.
With traditional comforts of wood and soft shades, The Sanctuary Yala is surrounded by jungle. With air-cons and king-sized beds, Wi-fi and meals included, you'll find yourself in a home away from homes.
This tent hotel offers the chance to go on a half-day or full-day safari trips, possibly seeing leopards or even crocodiles living amongst the jungle.
The Sanctuary Yala has only two tents available, so be sure to book early.
Amanwana, Moyo Island, Indonesia
With twenty luxury tents on offer with the option of being closer to the jungle or the beach, depending on your preferences. With luxury king-sized beds and circular bathtubs you can sink into, Amanwana not only offers luxury but brings peace and solitude. The air-con keeps the rooms cool, and the clear waters allow you to connect with nature under the sea, offering reef diving and snorkelling.
If the water isn't for you, Amanwana tent hotel also offers a varied amount of treks for you to try, various spa treatments and the chance to dine under the sun or the stars.
Lost in the trees, the Lakedale Resort at Three Lakes is as close to camping as you can be without losing your luxury. Not only do you get the views, the outside seating areas and chance for barbeques, but you also have the queen-sized beds with warm decor throughout inside.
With the chance to fish, and go on treks through the trees, you'll find it difficult not to fall in love with nature and all it has to offer here.
This tent hotel offers tents for couples, families and even a duplex tent where two tents are side by side for families vacationing with another family.
This countryside tent hotel is located just outside of Bath, with rolling hills and nature right at your doorstep. Overlooking Mells valley, you have a private shower and bathroom, firepit, and electricity available in your tent.
Inside, you have a plush double-bed, warm decor with a window in the room so you can see the stars just before you close your eyes.
While you're there, you can experience golfing, diving, walking and fishing.
These remote, lake-side tents are just what you need for some rest and relaxation. With twenty-five tents available to stay in, all with king-sized beds, rich and warm decor, and luxury from the moment you arrive. With the choice of a waterfront, hillside or rainforest tent, your stay can be tailored to you.
The hotel offers a range of activities from rock-climbing to boat trips to helicopter flights. But, when booking, don't forget your camera as this resort is surrounded by nature including bald eagles, black bears and even orcas.
---
Fancy a stay under canvas without the backaches and mosquitoes that usually accompany it?
Team hoo.