There's nothing quite like a cold beer at the end of a hard week. Now, you can even extend that Friday feeling by having your weekend centred around your hunt for a good pint.  The hotels below have made their mark as the top tastiest brewery hotels. 
If you are someone who loves beer, then stick around because this one's for you.
Types Of Brewery Hotel
A stay in one of the hotels below doesn't just mean a comfortable place to rest your head and unwind after a busy week, but it also means getting tasty, fresh beer from where it was created. Brewery hotels may be something cropping up in more recent years, but drinking a beer to unwind isn't all that new to us. 
When choosing your type of hotel, it's worth considering what kind of beer lover you are. Do you love real ale, lager or craft beer? Because there is a hotel for each of you. 
The difference between is quite significant, for instance:
Craft Beers: Usually, a unique and broad diversity between beer styles and taste profiles.
Ale Beers: Usually a fermented malt beverage, somewhat bitter, and has a strong flavour, some have an aroma of hops.
Lager: Usually fermented slowly at low temperatures with yeast sitting at the bottom of the tank. They can come in various shades.
Each of the hotels below pride themselves on bringing flavour to their particular brewery, and some even putting a fun twist on your accommodation. Another thing to consider is the importance of a special tour of the brewery, as some below offer them, and some don't. But, regardless if you see where the ale is made, each one of these guarantees an experience you'll never forget.
The Best 10 Brewery Hotels In The World
Please find below some of the best brewery hotels from around the world for you to stay at. When booking, please check COVID-19 guidelines before planning your getaway.
The Doghouse Columbus, Ohio, USA
It wouldn't be fair to not kick off this list without mentioning BrewDog's The Doghouse, a brewery in Ohio where the Headliner range and limited-edition exclusive beers are crafted. 
With 32-rooms, all decorated with fun and modernism in mind, you can rest your head with ease that when you wake, you'll do so to the smell and sound of beer being crafted. 
That isn't all, not only does this hotel have an interactive brewery museum for you to explore, but also a shower beer fridge and beer taps in the room. If you never wanted to leave, we aren't sure anyone would ever blame you.
The Swan, Southwold, England
With a brewing on-site for the last 670 years and the building itself dating back to the 1600s, you know The Swan will be steeped in beer and its history. The hotel decor makes nods to this, and the previous owners the Adnams, intertwining it with their modern remodelling. 
Expect to find yourself surrounded by plush greens, neutral walls and four-poster beds, after you've unwound in The Tap Room, The Swan's pub with Adnam beers on tap and plenty of others to sample. 
While you're here, take the Adnams Tour and learn how they craft their famous beer and gin, you may even get a chance to make your own gin to take away with you.
Hotel Het Anker, Belgium
Being Belgium's first brewery hotel, they have much to boast about. With greys, bronze and gold decor throughout, Hotel Het Anker has rooms to unwind in and a brewery to explore.
The building dates back to the 15th and 16th century, as do many of the buildings around it. In 1872, however, the Van Breedam family bought the brewery and over several generations have made it what it is to this day. 
Not only can you visit the brewery on-site, but they also recently opened a distillery which is also open for tours. If you're not one for walking, Hotel Het Anker have you covered with various tasting sessions to appease all.
The Suttle Lodge, Sisters, Oregon
With log cabins, a large lake to gaze over, and beers to wet your whistle, this lodging resort has something for everyone. They even host a Brewery Cookout in the year, where a full portfolio of craft beers are there for you to sample. 
With exposed wood and dark blue walls, the ambience at The Suttle Lodge is warm and relaxing, providing the choice to stay in their lodge or their cabins.
The Gleneagles Hotel, Perth and Kinross, Scotland
This country escape now caters to craft beer lovers with luxury and the chance to sample their delicious blends. 
Staying here is choosing a luxurious stay, including four-poster beds, all inspired by the grounds around this fabulous hotel. These include lakes, mountains, and meadow inspired decor. For a fancier stay, why don't you consider booking one of their elite suites, with the perfect mix of homeliness and glamour throughout. 
More importantly, after a day at the spa or golf, retire to The Gleneagles Dormy Clubhouse where there are Scottish craft beers to taste and their very own lager, named after the hotel.
Fässla Brewery and Hotel, Germany
Once beginning as a brewery back in the 1600s, later adding a guesthouse on-site so people all over can taste their unique blends. 
Located in Bamberg, known as one of the most beer-tastic cities in the world, it is home to the Rauchbier, a unique smoked beer you'll find difficult to top. 
Make sure to visit the historic Schwemm courtyard which stands as a nod to the years where horse and cart delivered beer.
Watermill Inn, Windermere, England
At this Inn, you'll find Ales ready, and able to be sampled, brewed right there in their microbrewery. Pets are even welcome and get their own special nod with beers named after our four-legged friends, such as Collie Wobbles and a stout called Dog'th Vader.
The location is close to Lake Windermere, making it a perfect place to see stunning views of the Peak District and then unwind by their log fire as you taste the ales they craft on-site.
If you become enamoured with one particular beer, ask behind the bar if they sell it in cases, as many of their brewed beers are being sold.
The Boot, Repton, England
Located in Derbyshire, this hearty pub has been making India pale ales since the 1800s. This brewery not only serves beer to those staying but also to local pubs in the area including The Dragon in Willington and Harpur's of Melbourne.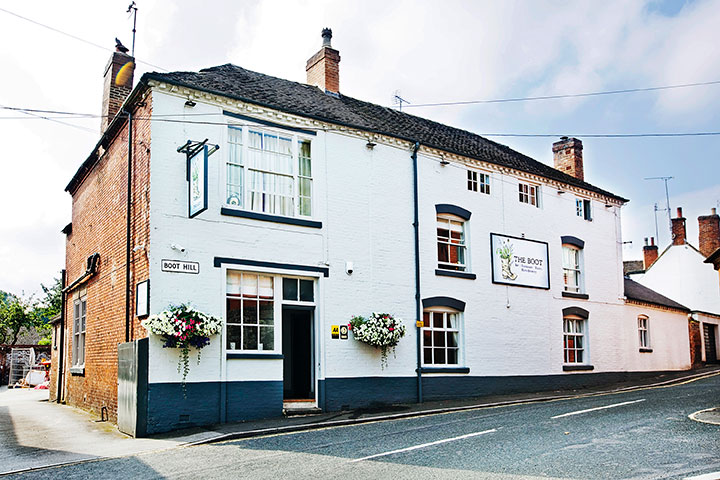 Be sure to book on to view the brewery during your stay, before heading to your uniquely designed room. All rooms are neutrally decorated, with large beds and plush comforts.
Woodstock Inn Brewery, New Hampshire, USA
This delightful brewery is nestled into New Hampshire, with comforting lodging of warm woods and colourful decor, but its the brewery which has been flocking with visitors to stay. 
Focusing on aromatic beers such as their Lemon Blueberry Pale Ale and Uncle Lumpy's Vanilla Porter, you can embark on their tour at various times each day, with the chance to hear the story behind them and taste them.
For a more unique trip, stay during one of their Brewer's Weekends for the chance to taste beer pairings along with drinking, as well as the opportunity to create your own beer.
Hops Hollow Country House, Lydenburg, South Africa
Creating malt draught beer, brewed with absolutely no enhancers or unnatural additives is this hotel's passion, never mind the fact they're the highest-altitude brewery in Africa. They put their unique taste down to the clean mountain water they receive, but whatever it is, it's tasty and will have you craving more. You can book on to their tour, learning the process behind each beer, and the rich history the place has. 
Their rooms are spacious, and homely, making you feel at ease the moment you enter them. But it's the views you'll wake to which will have you wondering whether you'll ever be able to leave before you've even had your first sip of a fresh, rich beer from their brewery.
---
While the list above is not extensive, especially with BrewDog being rumoured to be opening another brewery-hotel on Scottish shores, you'll be pleased to know that brewery hotels are going nowhere. 
So, all that stands in the way of you spending a weekend in a brewery, sipping on unique flavourings and tasting craft beers beside a warm fire, is choosing which one of the fantastic ten hotels above to start with first!
Team hoo.